The Church of Peace in Sanssouci Park in Potsdami is located directly on the green grid. It is one of the many attractions in Sanssouci Park. Anyone visiting the castle should therefore also visit the beautiful building complex of the Church of Peace . Both sights are within walking distance.
Church of Peace | Built by Ludwig Persius
The beautiful church is located in the Sanssouci Park in the Marly Gardens, right by the green grid. It was built at the request and with close participation of the artistically gifted Prussian King Friedrich Wilhelm IV according to plans by the court architect Ludwig Persius. It is an expression of the deep religiosity of Friedrich Wilhelm IV.
Address
Am Grünen Gitter 3, 14469 Potsdam
Potsdam & Sanssouci Park Tours, guided tours and tickets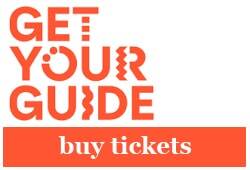 Tours, guided tours and tickets around the Sanssouci Palace and Park are available here. Take advantage of the latest offers from our partners, which we have put together for you.
Further top sights in Potsdam and the associated tours and tickets are available here.