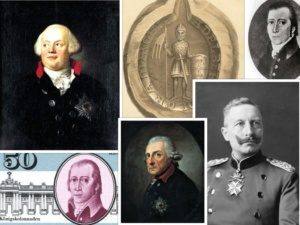 Potsdam's history and the appearance of the city were shaped by many different personalities from Potsdam, which are briefly presented below with some information and facts about the people.
Kings, rulers of Potsdam's history
Albrecht I of Brandenburg, Margrave Albrecht the Bear (1100-1170)
Elector Friedrich Wilhelm – the Great Elector (1620-1688)
Frederick I (1657-1713)
Friedrich Wilhelm I – the "Soldier King" (1688-1740)
Frederick II. – "Frederick the Great" (1712-1786)
Friedrich Wilhelm II. (1744-1797)
Friedrich Wilhelm III. (1770-1840)
Friedrich Wilhelm IV. (1795-1861)
Potsdam builder
Jean de Bodt (1670-1745)
Jan Bouman (1706-1776)
Carl Philipp Christian von Gontard (1731-1791)
Georg Wenzeslaus Freiherr von Knobelsdorff (1699-1753)
Friedrich Ludwig Persius (1803-1845)
Karl Friedrich Schinkel (1781-1841)
Georg Christian Unger (1743-1799)
Further information on the history of the city of Potsdam can be found on our partner pages on Potsdam history.