The Chinese tea house in Sanssouci Park is one of the attractions in the park. It is located about 660 meters southwest of the Sanssouci summer palace.
Chinese tea house | Small Chinese pavilion for Frederick the Great
Frederick the Great had the small Chinese pavilion built near his summer palace, Sanssouci Palace. Around the tea house, which belongs to the Prussian Palaces and Gardens Foundation Berlin-Brandenburg, are grouped life-size, gold-plated sandstone figures of Chinese people playing and dining. The golden figures of the pavilion can be seen from afar. The tea house was built in 1754 by Johann Gottfried Büring. It originated at a time when "Chinese fashion" was emerging in Europe. The dragon house built later in the shape of a Chinese pagoda was also under this influence.
Architecture
The tea house has the shape of a shamrock. The model was a garden pavilion, the Maison du Trefle, in the castle park of Lunéville (France). It has a curved tent-like copper roof, which is supported by four palm pillars made of sandstone. On the roof is a gilded figure of a mandarin with an open umbrella and caduceus.
Chinese tea house | Interior design
The interior of the house is made up of three small cabinets furnished with porcelain and a round hall with imaginative ceiling paintings. The ceiling painting depicts laughing Chinese and monkeys.
Address
Am Grünen Gitter, 14469 Potsdam
Potsdam & Sanssouci Park Tours, guided tours and tickets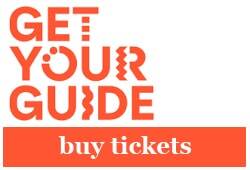 Tours, guided tours and tickets around the Sanssouci Palace and Park are available here. Take advantage of the latest offers from our partners, which we have put together for you.
Further top sights in Potsdam and the associated tours and tickets are available here.