Here we would like to introduce you to Charlottenhof Palace in Sanssouci Park. It is near the south entrance of the park.
Summer palace of Crown Prince Friedrich Wilhelm IV.
The castle, modeled on Italian country villas, is a classicistic summer palace of Crown Prince Friedrich Wilhelm IV and his wife Elisabeth. It is closely related to landscaping. It was originally built between 1756 and 1758 by Johann Gottfried Büring. Later, from 1826 to 1826, it was redesigned into a palace by Karl Friedrich Schinkel and Ludwig Persius. The associated garden was designed by Peter Joseph Lenné, among others.
The castle was named after Maria Charlotte von Gentzkow. She was the wife of a chamberlain and from 1790 to 1794 the owner of the estate.
Architecture of the palace
The original house, the castellan of Frederick II, was built by the construction manager of the Sanssouci Palace, Jan Bouman. The building was converted into a palace by the architect Karl Friedrich Schinkel. The castle has a sloping, slightly rusticated plinth with low, unadorned windows. The windows on the upper floor are much higher. The parapets and shutters painted with shades of blue indicate the Bavarian origin of Princess Elisabeth.
On the western side of the entrance, the central risalit is designed as a monumental portal. The main entrance, which is framed by a wide, antique-looking bottle, has been segmented into two entrances and two skylights by three right-angled columns. The model for this was the Thrasyllos monument in Athens.
Interior of Charlottenhof Palace
The interior of the palace are simple and bourgeois-classical. King Friedrich Wilhelm III. called for thrift, as the palace was only intended to be used for the temporary stay of Crown Prince Friedrich Wilhelm IV. Most of the furnishings in the ten rooms are still original.
Karl Friedrich Schinkel designed many parts of the interior. Among other things, the silver-plated furniture in the writing cabinet of the Crown Princess or the gilded splendid table in the dining room.
Tent room
The tent room is braced with white and blue awning fabric and is designed in the style of Roman general tents. Even if Alexander von Humboldt had lived in it, it was not set up for himself. It was intended for the ladies-in-waiting.
Address
Geschwister-Scholl-Straße 34A, 14471 Potsdam
Potsdam & Sanssouci Park Tours, guided tours and tickets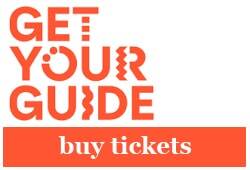 Tours, guided tours and tickets around the Sanssouci Palace and Park are available here. Take advantage of the latest offers from our partners, which we have put together for you.
Further top sights in Potsdam and the associated tours and tickets are available here.
Further information about the palace can be found on the official website of the Prussian Palaces and Gardens Foundation Berlin-Brandenburg.